In global climate to global independent test report: through the experiment of 12 cities around the world show use LED lights can reduce electricity costs, improve road brightness and provide citizens safer travel. Report also pointed out that the LED street lamp lighting can save up to 85% of the energy, the pilot cities of citizens from social benefits and environmental benefits are more like LED lighting.
Bright night: LED street lamp lighting can save up to 85% of the energy
The experiment called "LightSavers" lasted two and a half years, a total of 12 cities worldwide 15 pilot study was carried out, including New York, London and kolkata (Calcutta), etc., this is the first to clean lighting revolution as the main body of the research, explores the rise of the LED street lamp lighting the city what it means. The report talk about for a long time LED's status as a global market and potential, and for government policy makers and urban lighting managers provide leds with expanding big transformation. As part of the clean revolution, he rolled out jointly by the climate group and philips.
The main content of the report include:
In Toronto, kolkata, London, Sydney and survey shows that 68% to 90% of the respondents agree with LED lighting, that prominent advantages include improved security and visibility.
(2) LED lighting try life range from 50000 to 50000 hours, show high return on investment.
(3) the LED more than 6000 hours of failure rate is around 1%.
The climate group and philips called on the international low carbon lighting standard establishment and implementation to ensure that citizens around the world with high efficiency and energy saving of lighting.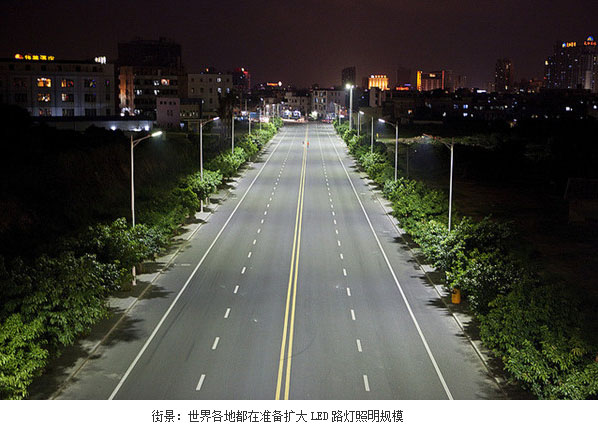 Climate group, the global chief executive Mark Kenber, said: "this report highlights the LED street lighting are ready for cities and towns all over the world widely, we call on governments to eliminate policy barrier, accelerating the transition of low carbon lighting. By 2015 should all new public lighting, street lighting and public buildings) have used LED lighting, to all the public lighting are LED in 2020. We will try to recruit city, state, and national government leading group, in the next three years for progress report every year." Philips lighting global public and government affairs director Harry Verhaar added: "the latest energy efficient LED lighting solution provides a complete significant energy savings plan, reduce carbon dioxide emissions, will transform urban environment. We believe that by promoting the lighting market transition, our LED lighting solutions will create a more livable urban environment."
Global lighting consumes 19% of global electricity use, if the lighting efficiency is double, the world will save is equal to half of European emissions from electricity and heat production.